Doughnut Economics with EU policymakers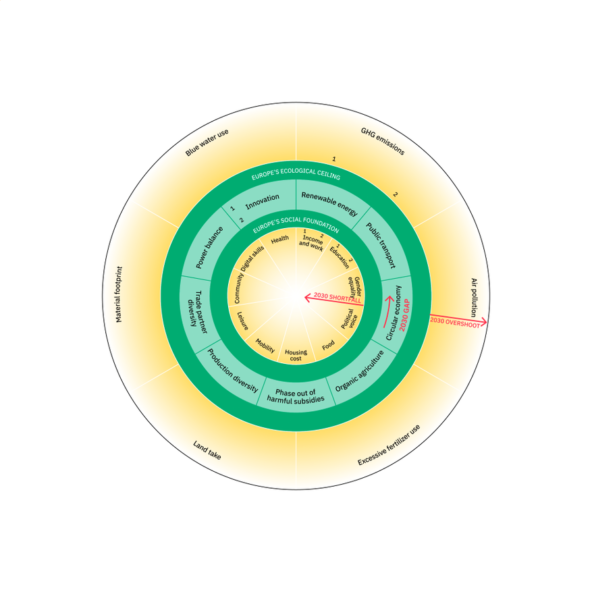 »The Doughnut offers the power of a shared vision, supported with a co-creative approach to create a sense of ownership, connection, and empowerment.«
A webinar for EU policymakers to introduce the concept of the Doughnut Economics Framework
The European Commission (DG R&I) and the ZOE Institute co-hosted a 2-hours webinar, Doughnut Economics: an update for Policymakers. The event gathered more than 250 participants online for a session under the hospice of Director General of DG R&I, Jean-Eric Paquet and closing remarks by Deputy Director-General of DG MOVE, Matthew Baldwin.
Kate Raworth introduced the principles of the Doughnut and the many ways in which the concepts and tools of Doughnut Economics are relevant to the work of the European Commission: as a compass to the EU 2030 targets, for the EU Commission as an institution, as well as cities and companies.
Concretely, under the 8th Environment Action Programme regulation, the European Commission is mandated to develop a political summary and set of indicators to measure economic, environmental, and social progress "beyond GDP". The Compass towards 2030, developed by ZOE Institute and inspired by the Doughnut Economics, is driven by the necessity to represent systemic change, better qualify the resilience economy we need in the future, and reinforce the connection of environmental with social objectives such as just transition. Most of the 30 indicators are regularly published by the Commission, many are already integrated into existing indicator sets (e.g., the Social Scoreboard, the SDGs, the EU Semester, and the Resilience Dashboards). Our proposal brings them together and links them to the priority areas of the EU Green Deal.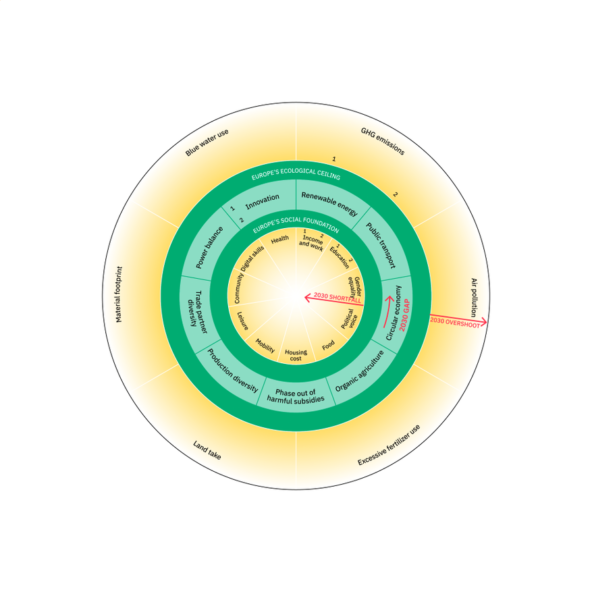 To monitor progress towards the EU's 2030 goals, the ZOE institute has designed the EU compass towards 2030, inspired by Doughnut Economics.
In addition, ZOE is joining forces with the EU Commission in its reflection on using a Doughnut Economics approach to the Commission's Greening and Corporate Social Responsibility. The Doughnut offers the power of a shared vision, supported with a co-creative approach to create a sense of ownership, connection, and empowerment. The Doughnut would support the Commission to strive to become both a climate-neutral and a nature-positive institution. This enhances coherence between the Commission's own greening strategy and the wider EU Green Deal objectives. In addition, the Doughnut would contribute to incorporate the social dimension and its multiple interactions with the climate and ecological challenges (planetary boundaries), and provides a multidimensional framework to assess the impact of the Commission's actions and choices as an organisation.